to Index

Smurfs!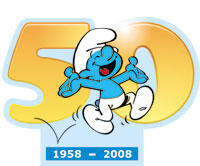 50 Years!

click on a thumb to see a bigger image

50 Year of Smurfs has to be celebrated ofcours!
So here and there all kind of celebrational activities can be found.

All over Europe the smurfs are on their Eurotour with Unicef (www.happysmurfday.com), which started in France (AngoulÍme 25/1/2008), and as a second city visited Scheveningen (15/02/2008) in the Netherlands.
We didn't catch the ones which where hidden there in the night of Valentines Day, but we bought a few at the exhibition stand...


And of cours here we have Dutch supermarket Albert Heijn (www.ah.nl) who made a huge campagne of it with 29 million little ones (15 variations), and one million pluche Smurfs and Smurfettes.
Just a few days after the start of the campagne we managed to find 8 of them, and the 2 pluche ones, and of cours now we have them complete!

AH always has menu's you can make from their products. During the Smurf promotional period, they also had special smurfy menu's.
Books will be put up in a separate section, but here is also an impresion of books/strip albums specially issued or re-issued for the celebration of 50 years of smurfs.


Play Along, a division of JAKKS introduced in 2008/2009 a new range of smurfs. They also had a special Pluche 50th aniversary edition, with a little Golden Smurf, a first scetch copy and a DVD as extra's

Later on the same Play Along Smurfs were just release under the JAKKS brand name.
Unicef European Tour 2008 : Fifty years of Smurfs! >> go to top

---
2008 Albert Heijn 50 year Smurfs celebration.. >> go to top

---
2008 Albert Heijn 50 year Smurfs celebration.. >> go to top

---
2008 Albert Heijn 50 year Smurfs celebration..Pluche Smurf and Smurfette >> go to top

Play Along Pluche >> go to top

---
2008 books & strip albums, special 50 aniversary editions. >> go to top